Euro Area Poised for Fastest Economic Expansion in a Decade.
Composite PMI held at 55.7 in August vs 55.8 flash estimate

IHS Markit predicts GDP will increase 0.6% in second quarter
Euro-area economic growth remained solid in August even as services activity slowed, according to IHS Markit.
A composite Purchasing Managers' Index held at 55.7 last month, slightly below an Aug. 23 flash estimate of 55.8. IHS Markit said on Tuesday that although the region's services sector expanded at the weakest pace since January, gross domestic product is poised to increase 0.6 percent in the third quarter, setting the stage for the best annual performance in a decade.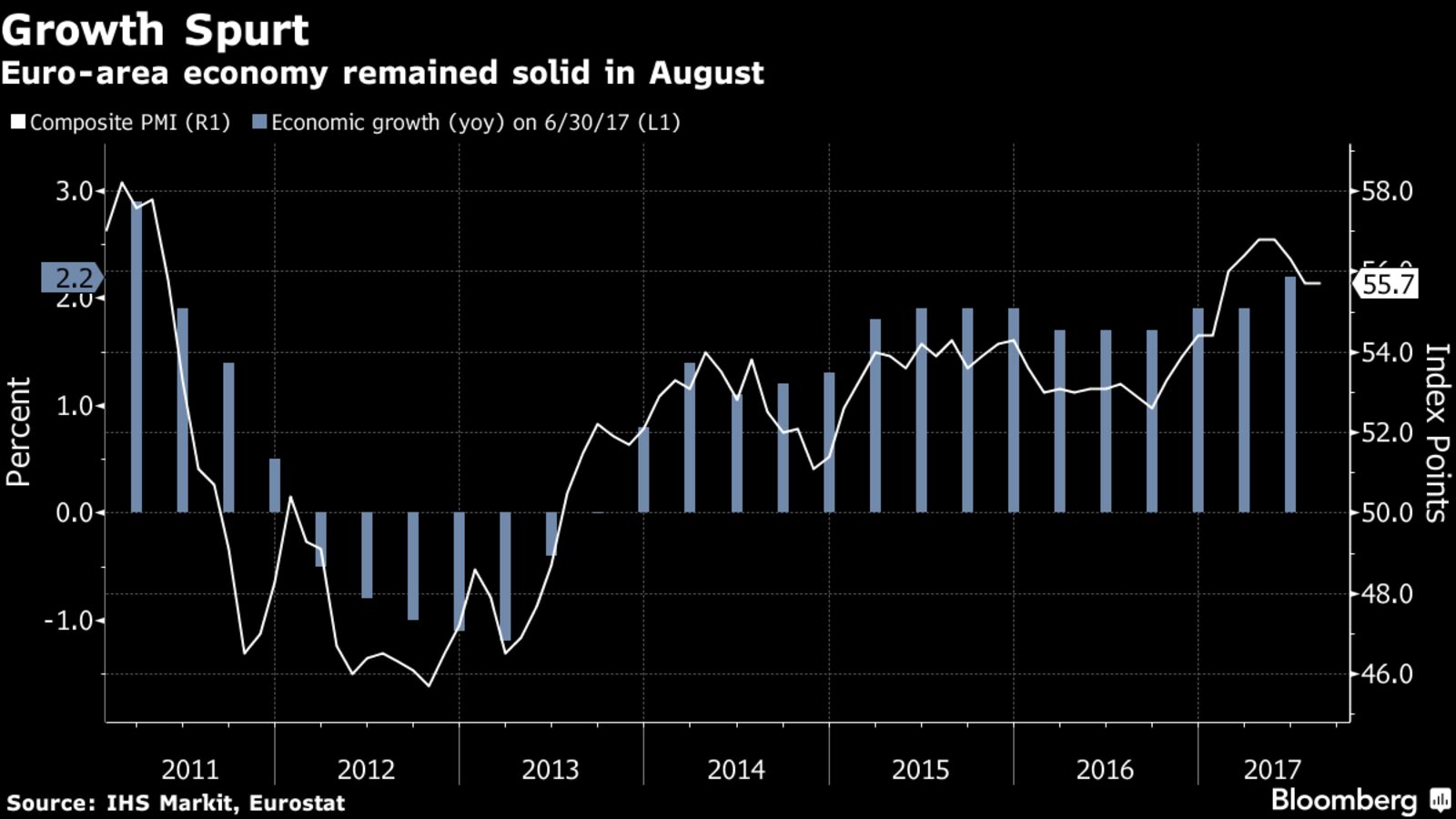 "There's good reason to be optimistic that the current spurt of growth has further to run," said Chris Williamson, chief business economist at the London-based company. "Forward-looking indicators such as new-order inflows and future expectations have dipped to levels seen back at the turn of the year, but remain sufficiently elevated to suggest that any potential slowdown in growth in coming months will be only very modest."
The generally robust economic trend should come as good news to officials at the European Central Bank, who meet later this week to update policy. Economists surveyed by Bloomberg predict the Governing Council will unwind asset purchases over nine months starting early next year.
Inflation is slowly picking up, even though at 1.5 percent consumer-price growth remains below the ECB's goal. IHS Markit said companies' input costs and output charges both hit three-month highs in August.
The PMIs "highlight how price pressures have meanwhile edged higher alongside the strong economic upturn," Williamson said. This adds "to the perception that the ECB will soon announce its intention to taper its stimulus in 2018 if conditions remain supportive, most likely at its October policy meeting."
Source: www.bloomberg.com